Norman

High School




Class Of 1973
THE CLASS OF 1973'S 45TH REUNION WAS A HUGE SUCCESS!
GUESS WHO????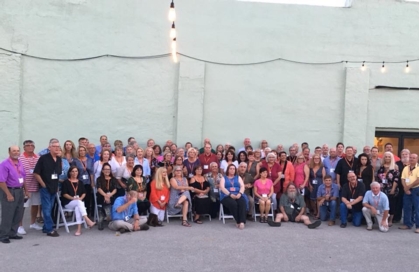 THANKS TO ALL THAT COULD COME! MISSED THOSE THAT COULDN'T. SEE YOU IN 5 - PLAN NOW - OH MY GOODNESS - 2023!
NORMAN HIGH SCHOOL CLASS OF 1973 45TH CLASS REUNION
June 15 & 16, 2018!!! Choose the 1973 NHS 45th Reunion Tab on the left side of this page to begin registration!
Please feel free to mail a check (and save the reunion from paying a credit card fee) to:

NHS Class of 1973 c/o Pam Brown Clark Timmons 3563 Remington Place Road Norman, OK 73072

EVENTS:

Friday at 11:00 am: Golf at Westwood - contact Steve Hoelscher shdds81@aol.com or 405.802.3121

Friday night: The Mercury 7:00-11:00 PM

Saturday morning: School Tour at 9:30, Memorial Service and Lunch at O'Connell's. For the School tour, please meet at the front, Main Street entry closest to the flag poles. The Memorial will be in the commons following the School Tour.

Saturday night: Jax at the Blackbird 7:00-11:00 pm

FRIENDLY NOTICE: Parking at The Mercury is neighborhood streets and parking lots near the venue. Please considering using UBER or Cab service! We want everyone to be safe!

Hotel reservations: Sooner Legends - $85.00/night - tell them you are with Class of 1973 as there is another reunion the same weekend. 405-701-8100!!! LAST BUT NOT LEAST, ORDER YOUR TIGER T-SHIRT!!! There is a tab on the left of this page!
Questions, comments, suggestions - send to Carolyn Heck Trent at csbokc1@gmail.com or Pam Brown Clark Timmons @ pctimmons@pldi.net.
FOLLOW US ON FACEBOOK - NORMAN HIGH 1973 ALUMNI